Hello everyone and welcome back to another post about Thailand.
I thought you might want to know a tiny bit more of their culture before going on.
First, to say hello in Thai is..
Men say hello with: sah wah dee khrap! (short and sharp finish)
Women say hello with: sah wah dee khaa… (drawn out finish)
Also, when you are saying hello, you put your hands together and do a slight bow, like shown in the picture below.
I found the pic. and the info on:  https://www.tripsavvy.com/how-to-say-hello-in-thai-1458400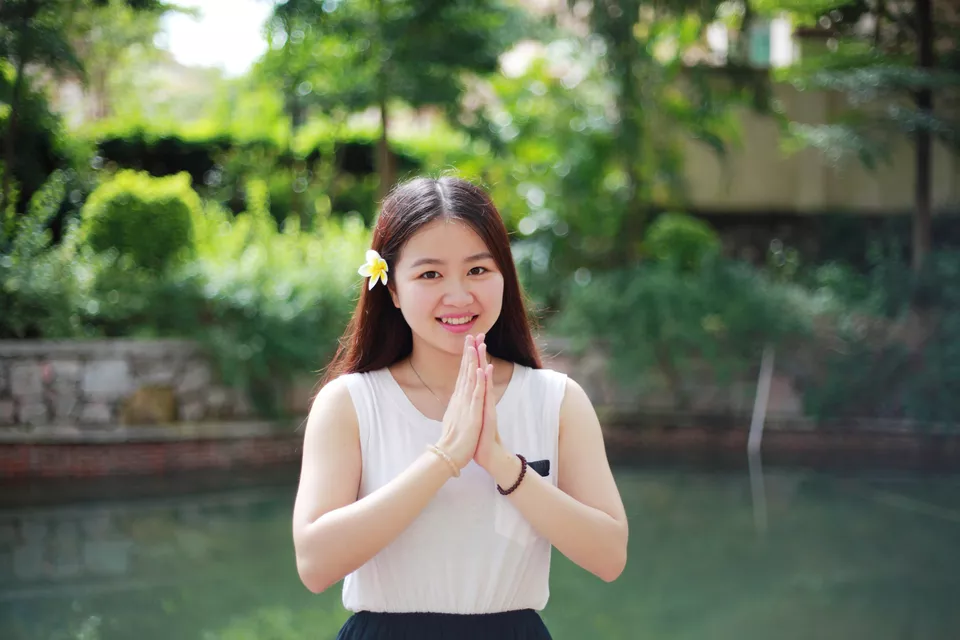 The main religion there is Buddhism and the language is Thai.  They are ruled by a king.  There are cities and villages.  Also, it is impolite to show the bottoms of one's feet or to touch the top of another person's head.  The head is considered sacred while the bottom's of your feet are considered dirty.
These are just a couple of facts to get you started. 🙂
While we were in Thailand, we went to one of the biggest temples in Chaing Mai, the city we were in, to see what they believed.  It was sad but, we went to Thailand on a mission trip to share the love of Jesus with others.
Here are some other pictures from the temple:
Above is a picture of a giant staircase leading to the temple.  Also, there is a couple of other pictures.
Anyways, we also went on many different outreaches.  We went to one of the university's there in Chaing Mai.   We were able to pray for different people.  One time,  me, my Dad, a translator, and another team member got to pray for this one student.  We got to pray for them and then tell them about the Thai church there.  We went to markets and handed out tracts.
We also went to malls.  We would go and pray for people there too and sharing the love of Jesus everywhere we went.   Here are a couple of more pictures, before I wrap up.
Enjoy!!
Two of our team members, and then me, and my Dad in the blue shirt.
Here is one of me and my Mom. 
From left to right)   There is me, my Mom, my sister. and the my Dad. I am pretty sure we are at one of the Thai markets.
NEXT TIME: We get to meet a family of elephants and go to markets.  Also, anther cool story!
NEXT NEXT TIME:  We go to villages and Jesus moves in such a powerful way!!
Stay tuned!  I hope you enjoyed this week's post!
This week, let's pray for the people in Thailand and the missionaries there.   I pray right now, that the love of Jesus will touch the people of Thailand's heart and that they may know you as the true God and the King above all Kings.
-This is Kaelyn and may you life be filled with joy and worship to Jesus!!
BYE!  🙂